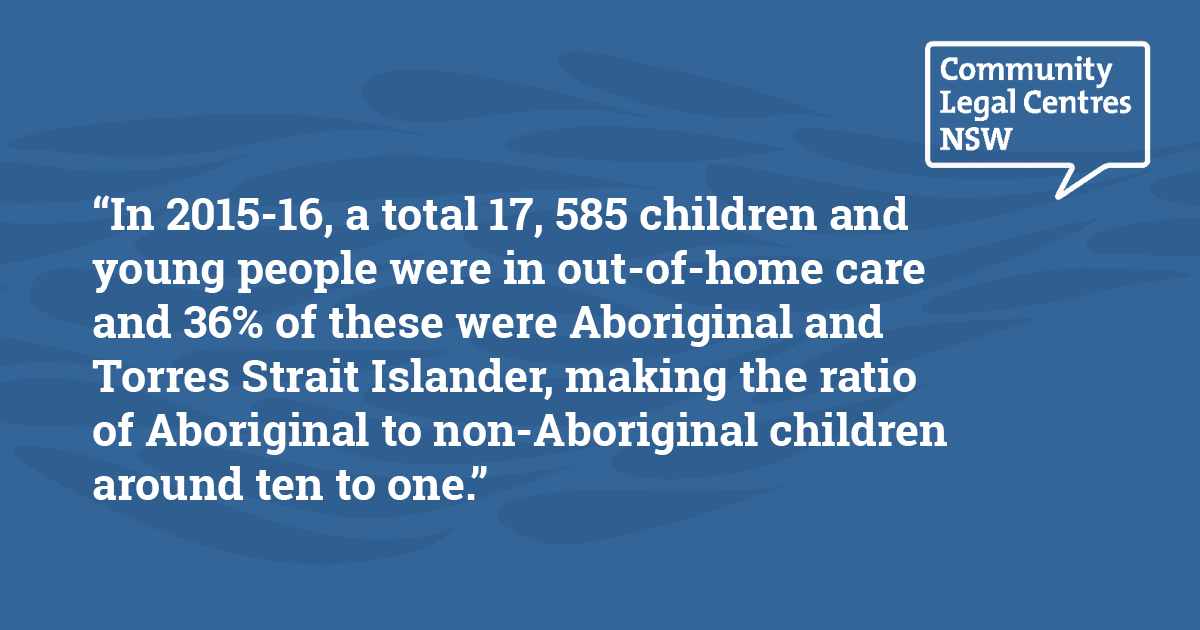 In 2017, the NSW Department of Family and Community Services (FACS) released a discussion paper, Shaping a Better Child Protection System, which proposes a range of amendments to the Children and Young Persons (Care and Protection) Act 1998 and the Adoption Act 2000, intended to help shape a better child protection system.
Issues surrounding the rates of children being placed in out of home care is a pressing concern, particularly Aboriginal and Torres Strait Islander children.
Reviews of the child protection and out-of-home care system in NSW have highlighted a range of issues that have led to our current child protection system crisis including:
family separation;
trauma and loss;
child welfare policies;
socio-economic disadvantage;
substance abuse;
domestic violence; and
mental illness.
Aboriginal and Torres Strait Islander children are vastly over-represented in the Australian out-of-home care system. In 2015-16, a total 17, 585 children and young people were in out-of-home care and 36% of these were Aboriginal and Torres Strait Islander, making the ratio of Aboriginal to non-Aboriginal children around ten to one.(1)
This over-representation is connected to past policies and practices including 'poverty, assimilation policies, intergenerational trauma and discrimination, forced child removals, cultural differences in childrearing practices and family structure'.(2)
Removing children from their homes is an extreme measure of last resort. Current funding for child protection is focussed on reactive measures rather than proactive ones, with:
57% of funding spent on out-of-home care;
26% spent on statutory child protection; and
only 17% spent on early intervention measures.
Instead, governments should invest in community-led early support services and early intervention measures that address issues such as domestic and family violence, mental health, drug and alcohol abuse, housing and homelessness.
Our recommendations
Community Legal Centres NSW made recommendations in seven key areas detailed below.
The Children's Court should not be the conferred jurisdiction to make adoption orders.
There is no need to further limit section 90 applications due to the impact that this may have on the ability of parents to commence rehabilitation and ultimately seek restoration of their children.
Shorter Term Court Orders be implemented to focus on family preservation and restoration.
The Department should enforce and better regulate compliance of NGOs with outcomes of mediation; NGOs should be accountable for decisions they make around contact between children and their parents, family members and/or guardians, and face consequences when they do not comply.
Every parent, family member and/or guardian should have the opportunity to receive one-off free, accessible legal advice before entering into the NSW child protection processes with FACS, Family Group Conferencing or the NSW Children's Court.
People and communities with specialist needs, for example people with cognitive disabilities and Aboriginal and Torres Strait Islander people, should receive specialist support, including legal support prior to and throughout ADR.
Increased funding be provided to the CLC sector, on top of the limited Care Partner funding via Legal Aid NSW, to provide early intervention legal advice and support for people involved in the care and protection system. This is estimated at $4.7 million per annum.
A full copy of our submission is available here.
Endnotes
1. Australian Institute of Health and Welfare (AIHW), Child protection Australia 2015–16 (March 2017; Royal Commission into Institutional Responses to Child Sexual Abuse).
2. Australian Institute of Family Studies, Child protection and Aboriginal and Torres Strait Islander children (August 2017). 
3. New South Wales Legislative Council, General Purpose Standing Committee No. 2 Child Protection. Report 46 (March 2017).