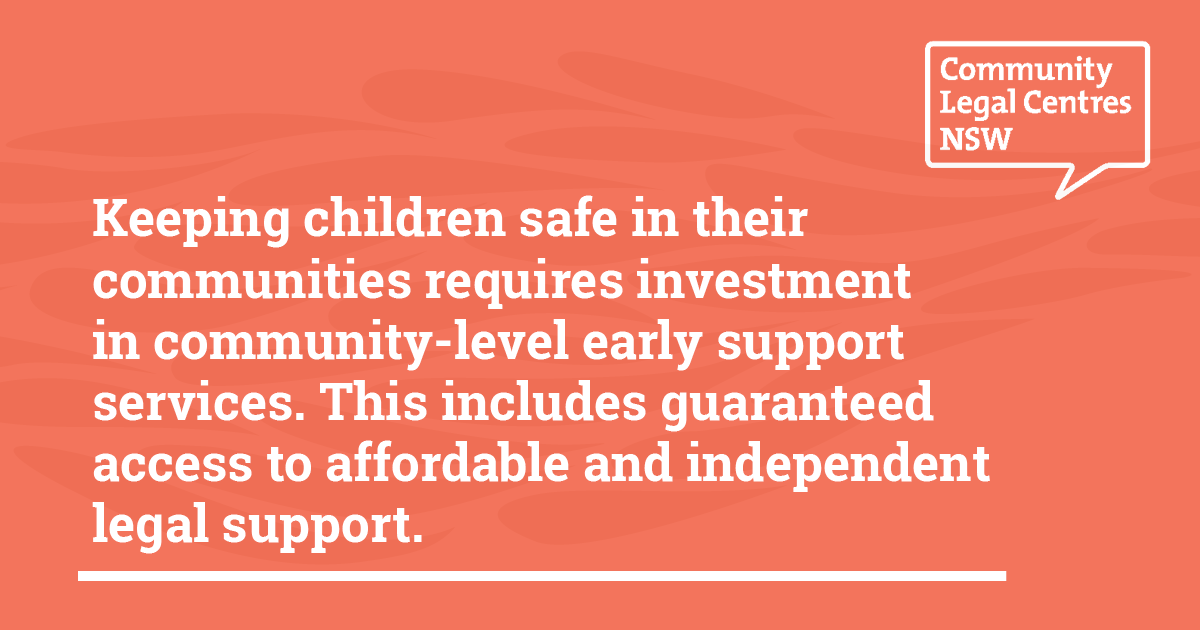 On Thursday 29 August 2019, Community Legal Centres NSW received correspondence from Legal Aid NSW that the government agency was cutting funding from the CLC Care Partners Program, effective from the end of October.
This decision has the potential to leave families with complex needs without the help and support required to keep their kids safe at home.
Watch the ABC News report below.
See also this ABC online story (30 August 2019).
This funding totals just $423,000 across 12 organisations and supports the work community legal centres do with families encountering the care and protection system. This crucial early support can keep families together while ensuring the safety of the child.
The parent advocate and legal support from community legal centres helps reduce the number of children taken into Out of Home Care by FACS. Australia has a shameful history of forcibly removing children from families and communities that continues today.
This is because policy makers provide insufficient community-level support to families. They stand back and wait for a crisis. Taking children away from their community and placing them into Out of Home Care has significant long-term impacts, including on mental health. It also increases the likelihood someone will enter the criminal justice system and struggle to provide safe environments for their own children.
In 2018-19 FACS will spend $1.2bn on child protection. Under $150 million will go towards early intervention and keeping kids safe with their parents. 
We need to support families in their time of need, not break them apart when they are most vulnerable. Early support services, including legal assistance, can make all the difference to keeping lives on track and kids safe in their communities.
The Legal Aid NSW decision to cut Care Partner funding affects twelve community legal centres:
The decision will make it harder for these organisations to prioritise child protection work. It will result in loss of services to the community, reductions in staff hours and potentially job losses.
What you can do:
Contact your local member of parliament (find them here) and the Attorney General to raise your concerns about this decision.
Raise awareness of the importance of legal assistance and the impact of these cuts, via social media (here are some social media tiles to help). Use the hashtag #FundEqualJustice.
Support affected community legal centres via the links to their websites above.
More information